NEW(ish) to Hoopla Kids: Little Green Radicals + Review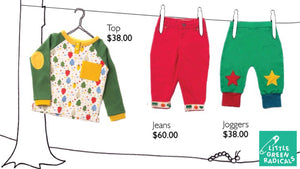 It's secretly been in our shop for a while, getting a good test run from Hoopla Kids 1, 2, 3 + friends, and I can happily report that we love the gear from Little Green Radicals.
We decided to stock their range of twill jeans, seersucker pants, and thick jersey joggers with a couple of matching t-shirts. We also have shorts and tunic dresses in twill cotton, as well as the mega cute bubble bottoms! All perfect for those busy summer days heading our way.
As a brand, Little Green Radicals make very good clothing. The pieces are made from organic cotton, and produced in ethical, fair trade factories. And all the siblings can wear the fun, unisex prints. Three giant ticks from us!

For Fashion Revolution Week earlier this year, Little Green Radicals sent us some pictures and information about their factory and processes. 
Here's a couple of reviews from our crew, as we tested the gear over the last few months...
Here Hoopla Kid Two is wearing the blue Beach Ball Star Joggers. These jersey pants have nice deep pockets, are made of thick cotton to withstand heavy wearing, and are super comfy. Hoopla Kid 2 has stated that these are his favourite every day, all the time (it's true). 
When we first opened the parcel from Little Green Radicals, the first thing we noticed was how soft the clothing was. So buttery and comfy to wear. We were interested to see how long the pants, in particular, would last for active kids who climb and jump 80% of the day! But after multiple wears and washes (dried on the line and in the dryer), they are still in perfect condition. We love the little detailing on the cuffs, and bonus - the red of the pants match the red on the DUNS Sweden Umbrella top perfectly.
The jeans (seen here in Pillar Box Red) are long, with adjustable waistbands, zip fly, and plenty of pockets.
The gorgeous Beach Hut seersucker pants have the added advantage of being pants or long shorts when you role them up to the button band on the side leg. This was great on a recent beach-side holiday! These pants come in a lighter weight cotton than the jeans, but have still held up beautifully to hard use and washing. Like the jeans, they've deep pockets and adjustable waistbands to extend the wear as your children grow.
And I even got up to some nifty recycling with the brand's great fabric tags! More to come on that later... 
---
Also in Blog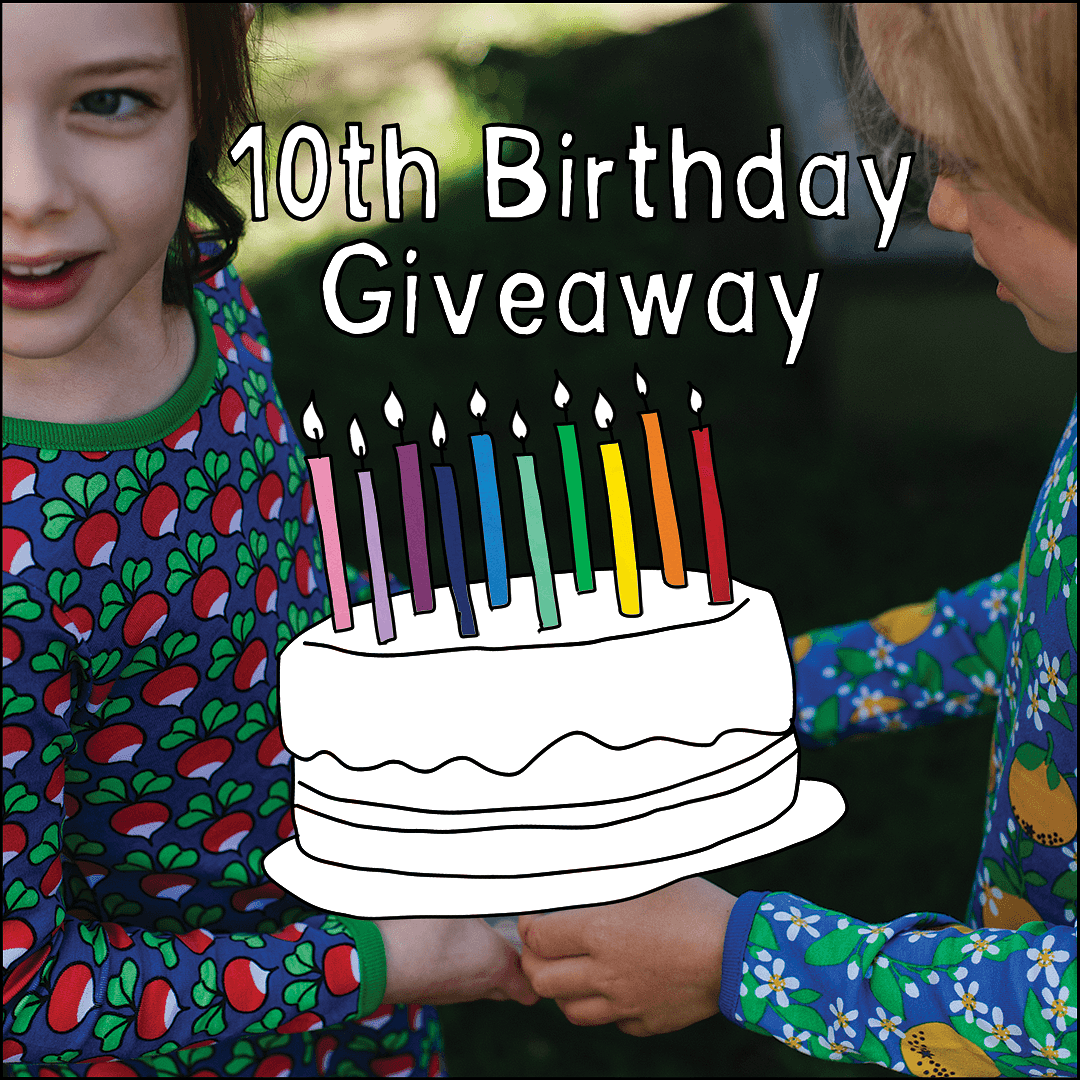 It's our 10th birthday! And we're both celebrating (scroll down for our giveaway) and taking a trip down memory lane.
At the centre of our journey has been you - our lovely customers, so thank you for coming along for the ride!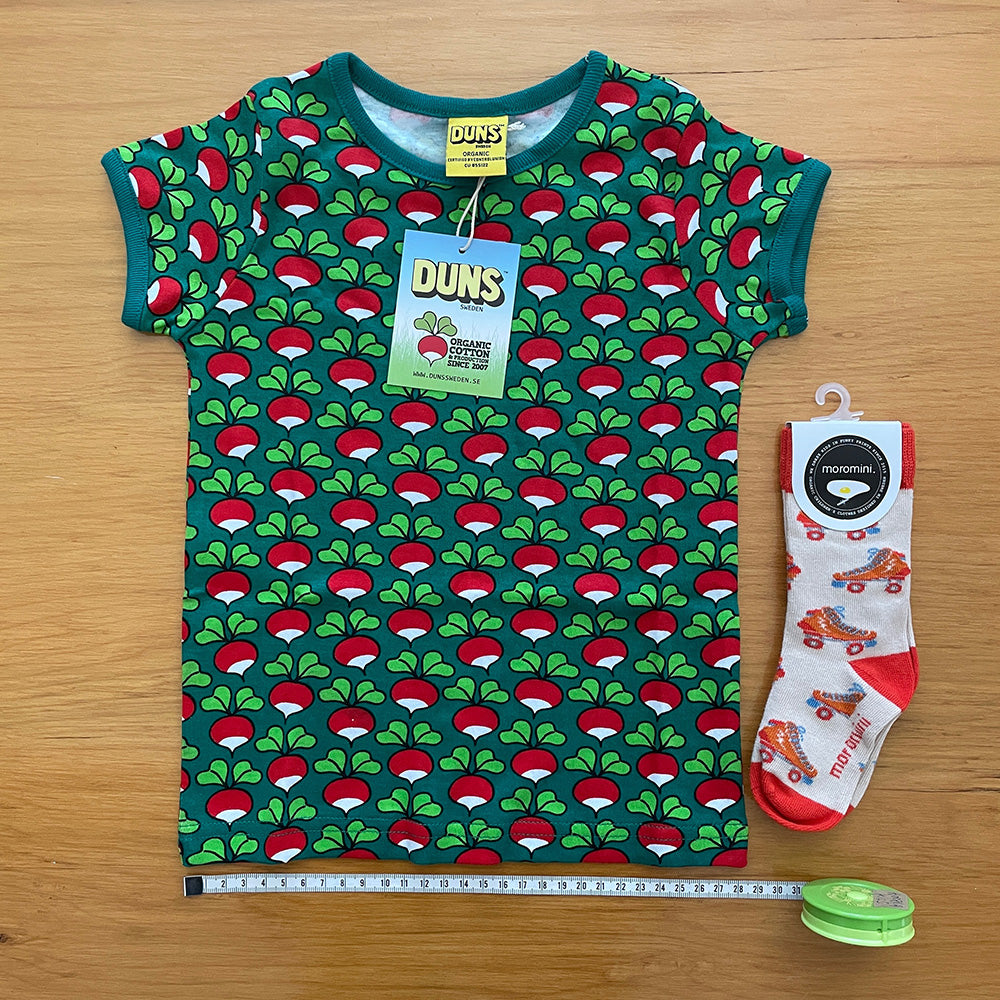 Here are some handy tips to help you get the best fit, first time at Hoopla Kids. We explain our sizing system and how to use it for buying clothes, shoes and socks.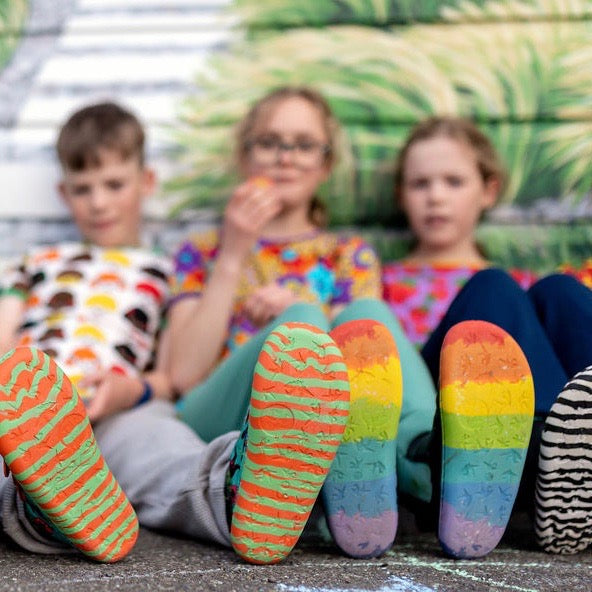 Behind the scenes at Hoopla we've been experimenting for a long time with different barefoot shoe brands on our own feet.
You might've seen the term before, but what does it mean for shoes to be considered 'barefoot' or 'minimal'?